WELCOME TO TRUTH BAPTIST CHURCH!

Founded in the fall of 2017 (inaugural service Oct. 8), Truth Baptist Church is an independent, fundamental, Bible-first Baptist church located in Lewiston, Idaho. As symbolized in our logo, we strive to be bold for the truth, centered on the cross, and to encourage believers to take up the shield of faith daily.

Our prayer-filled desire is to share the gospel, earnestly contend for the faith, and to lay a strong (Biblical) foundation for ourselves, our families, and our community from which God can truly  be served and glorified.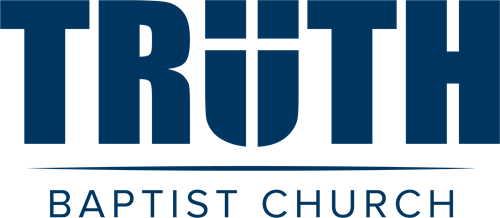 Truth Baptist Church stands firm on all of God's Word, which we believe has been preserved without error in the King James Version. We believe in traditional Sunday services with hymns that bring glory to God and not man and with preaching that is filled with truth and not simply with what people want to hear. Ultimately, we have a heart to serve God and share the gospel with a lost and dying world. 
John 8:32 "And ye shall know the truth, and the truth shall make you free."
Whether you're a longtime believer, have just begun to seek the truth, or you're somewhere in between, we'd love for you to visit. Our service times are listed below. Nursery is provided for all services. 

Sunday
10 a.m. - Sunday School (for adults, teens and children)
11 a.m. - Morning Service 
5:30 p.m. - Patch the Pirate Club (children ages 5-12)
6:30-7:30 p.m. - Evening Service

Wednesday
6:30 p.m. - Prayer Meeting
7-7:45 p.m. - Children's Class & Adult Bible Study
 
Learn more about us:  Beliefs  |  Leadership  |  Sermons & Videos  |  Contact/Visit




Follow the Truth Baptist Church Facebook page!